Sights of San Francisco – SF Top Attractions & Things To See
There is as much to see, as there is to do, in San Francisco. So, make sure you allow enough time in your schedule to visit some of the most iconic places. Choosing which ones, will be the challenge.
Walk Over the Golden Gate Bridge
The Golden Gate Bridge, must be the most famous bridge in the world and manages to impress even the most experienced travellers with its stunning 1.7-mile span.
Approximately 120,000 cars drive across it every day, but a pedestrian walkway allows the crossing on foot, and bikes are allowed on the western side. The Golden Gate Bridge is said to be one of the most photographed objects on Earth so definitely bring your camera. Just check the forecast if you're on foot or bicycle as it can get windy and chilly out on the bridge – but it is 100% worth the effort.
Spectacular views from the historic Cable Cars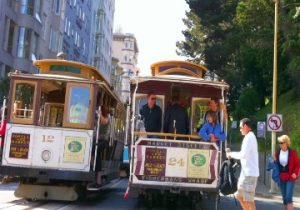 San Francisco is known for its steep, hilly streets and is home to the world's last manually operated cable cars. Cable cars have been transporting people around San Francisco since the late 19th century. The cars run on tracks and are moved by an underground cable on three routes. Their familiar bells can be heard ringing from blocks away. Of the 23 original lines, only 3 remain, so make sure you catch one when you're in town. Start off at the intersection of Powell and Market Street and ride the Powell/Hyde line to Lombard Street (called the world's crookedest street), up a hill so high you can see the island of Alcatraz, all the way to the end near Ghirardelli Square where you can visit the famous chocolate store after which the square is named. Each one-way ride will provide spectacular views of the city's celebrated hills as well as exhilarating transportation.
See the Sea Lions at Pier 39 in the Fisherman's Wharf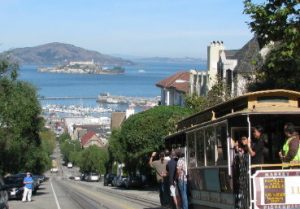 Fisherman's Wharf is also home to PIER 39, a festive waterfront marketplace that is one of the city's most popular attractions. A community of California sea lions has taken up residence on the floats in the PIER 39 Marina and visitors line the nearby railing to watch their antics. From there it's a short walk to the San Francisco Dungeon, Madame Tussauds, and Ripley's Believe It or Not! Located right on the waterfront at Pier 39, is the Aquarium of the Bay which is focused on the animals native to the San Francisco Bay and neighboring waters and offers unbelievable marine displays in clear acrylic tunnels. More than 20,000 aquatic animals, in 700,000 gallons (2,650 cubic meters) of filtered bay water, represent the diversity of the area's aquatic life and ecosystems.
Exploratorium
This iconic San Francisco discovery destination is located at Pier 15 on San Francisco's historic Embarcadero waterfront. With more than 600 exhibits, the Exploratorium is more than just a museum: it's an experience that people of all ages can enjoy. From here you can also enjoy amazing views of the city and bay from the new Bay Observatory. Watch out for the Aeolian Harp, a 27-foot-tall harp that is strummed by the wind. It sings the most around two or three o'clock in the afternoon when the wind picks up.
Golden Gate Park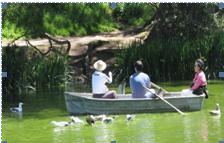 This great urban park – the third-most-visited in the United States (behind New York's Central Park and Chicago's Lincoln Park) – has many offerings. The park is home to various gardens, lakes, playgrounds, trails, and more. Golden Gate Park is also home to several top San Francisco attractions such as the de Young Museum and California Academy of Sciences, the Japanese Tea Garden, historic windmills, and a flower conservatory. At 1,017 acres, there is something for everyone to see in Golden Gate Park. Make sure to check their online calendar before visiting and you might catch a movie in the park or other fun events. You could easily spend an entire day in this massive park, taking in the splendid views and tranquil surroundings.
Explore North Beach
North Beach, the city's Italian quarter, isn't a beach at all. It's a neighborhood of romantic European-style sidewalk cafes, restaurants and shops centered near Washington Square along Columbus and Grant avenues. The beautiful Church of Saints Peter and Paul is a much-visited landmark. Coit Tower, atop Telegraph Hill, offers a splendid vantage point for photos of the bridges and the Bay. Inside the tower, floor-to-ceiling murals painted in the 1930s depict scenes of early San Francisco.
Walk Through the Oldest Chinatown
The entrance to Chinatown at Grant Avenue and Bush Street is called the "Dragon's Gate." Inside are 24 blocks of hustle and bustle, most of it taking place along Grant Avenue, the oldest street in San Francisco. This city within a city is best explored on foot; exotic shops, renowned restaurants, food markets, temples and small museums comprise its boundaries.
Get Cultured
A visit to San Francisco would not be complete without a cultural experience. The city is home to internationally recognized symphony, opera and ballet companies. The new San Francisco Museum of Modern Art, the Asian Art Museum, the de Young Museum, the Legion of Honor and other museums and galleries are devoted to the finest of classical and contemporary arts. San Francisco is also home to the California Academy of Sciences – the only place on the planet with an aquarium, a planetarium, a natural history museum, and a four-story rainforest all under one roof.
Watch the Sunset at Twin Peaks

Twin Peaks are two hills in the center of San Francisco – a great spot to check out the 360-degree panoramic view of the city. See the bridges, the ocean, the city, and beyond from these lookout points. There is no public transit directly to the top, but there is a stop at the base from which you can walk up. To make the most of your trip to Twin Peaks, pack a picnic or pick up some takeout at one of San Francisco's delicious restaurants and head up the hill to sit and take in the sunset.
Chinatown dumplings and dim sum restaurants!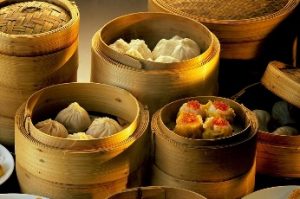 The best dim sum restaurants in San Francisco are not found in Chinatown!
The aromas coming from the steamed and fried dumplings and seafood flavours are so tantalizing and the crunchy shrimp or ducks are so appealing. Some of the top places for dim sum restaurants include Good Mong Kok Bakery, Yank Sing, Dumpling Kitchen, Dumpling Kitchen, Hong Kong Lounge II, Clement street Chinese Restaurants, Yank Sing (Spear Street), and if you are local for something more local, go to Ton Kiang Bustling mainstay serving dim sum all day plus Hakka staples such as salt-baked chicken at dinner.
Ferry Building Marketplace
The Ferry Building is not just a historic monument, but also the ideal place to bring foodies and tourists to, but it's not the only one. Located in the heart of the Embarcadero Center, the Ferry Plaza Farmer's Market Shopping & Dining Farmer's Market offers a variety of local dining options tucked away in San Francisco's Ferry Building. This Food artisan Marketplace brings the best local food traditions of the Bay Area to your table. There are plenty of shops, boutiques and even wine tasting rooms as well for wine aficionados.
Tip: Don't drive! Parking can be nightmare there; take a tour and explore the city bay the bay your way.
Visit Iconic Muir Woods and Legendary Alcatraz Island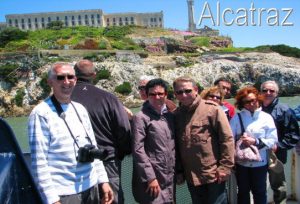 Two of the best sights and attractions in San Francisco Bay Area are Alcatraz Island and Muir Woods National Monument, home of the ancient redwoods.
Insider tip: Alcatraz tickets are extremely limited and sell out rapidly with thousands of visitors every day; they are often sold out six to 12 weeks in advance.
Don't drive to muir woods, take a tour and enjoy peace and serenity away from traffic, Then visit Alcatraz prison, located in the San Francisco Bay, Alcatraz Island and Alcatraz Federal Penitentiary have been cited as one of the most haunted places in America, and also as the most haunted prison in the country.
Stay, and Shop in Union Square and Market Street
Union Square is San Francisco's #1 Visitors' Destination for Shopping, Dining and Entertainment. Union Square is one of San Francisco's main shopping and cultural centers where numerous famous hotels, elegant accommodations and luxury hotels are found. Union Square is home to major department stores and boutiques.
Explore North Beach walking
North Beach is the Italian quarter and neighborhood of late dining, European-style sidewalk cafes, restaurants and shops centered around Washington Square and Columbus Ave. North Beach is home to authentic acritude like Saints Peter and Paul I Church and Coit Tower located on Telegraph Hill. Walking is the best way to get in and out of North Beach.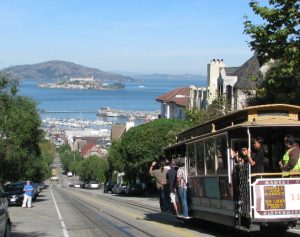 The world's crookedest street, Lombard Street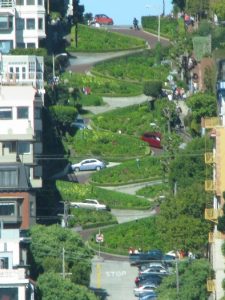 While it may not be the steepest street (although it is known as such), Lombard Street is the most famous street in San Francisco. The world's crookedest street, Lombard Street (the portion between Hyde and Leavenworth), has been a San Francisco landmark for decades. Lombard Street is known for the one-way block on Russian Hill between Hyde and Leavenworth Streets, where eight sharp turns are said to make it the most crooked street in the world. The design, first suggested by property owner Carl Henry and built in 1922, was intended to reduce the hill's natural 27% grade, which was too steep for most vehicles. It is also a hazard to pedestrians, who are accustomed to shallow inclines, up to 4.86° because of wheel chair navigability concerns. The crooked block is perhaps 600 feet (180 m) long (412.5 feet (125.7 m) straight-line), is one-way (downhill) and is paved with red bricks. The sign at the top recommends 5 mph (8 km/h).
Insider tip and latest news: To control the influx of traffic through Lombard street ,it may start costing money to drive down the world's 'crookedest' street, the one-block stretch of Lombard Street with tight turns and its pretty-as-a-postcard views. Because of its growing popularity with tourists has created a neighborhood nuisance in recent years. It has created traffic backups and safety concerns. To help ease congestion, especially on weekends and the summer, San Francisco Supervisor Mark Farrell is proposing charging a toll.
Drivers would make reservations and pay through Fastrak, although how much to charge is still being studied.
"The point is not to eliminate tourism here. The point is to manage it so people who live here and in surrounding neighbourhoods have a normal quality of life," said Farrell.